On Tuesday, Microsoft detailed an ongoing large-scale phishing campaign that can hijack user accounts when they're protected with multi-factor authentication measures designed to prevent such takeovers. The threat actors behind the operation, who have targeted 10,000 organizations since September, have used their covert access to victim email accounts to trick employees into sending the hackers money.
Multi-factor authentication—also known as two-factor authentication, MFA, or 2FA—is the gold standard for account security. It requires the account user to prove their identity in the form of something they own or control (a physical security key, a fingerprint, or face or retina scan) in addition to something they know (their password). As the growing use of 2FA has stymied account-takeover campaigns, attackers have found ways to strike back.
Microsoft observed a campaign that inserted an attacker-controlled proxy site between the account users and the work server they attempted to log into. When the user entered a password into the proxy site, the proxy site sent it to the real server and then relayed the real server's response back to the user. Once the authentication was completed, the threat actor stole the session cookie the legitimate site sent, so the user doesn't need to be reauthenticated at every new page visited. The campaign began with a phishing email with an HTML attachment leading to the proxy server.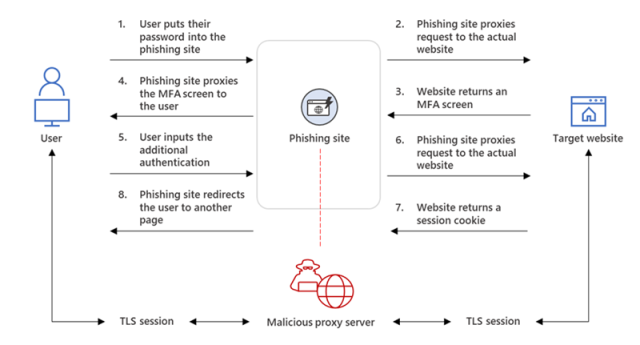 "From our observation, after a compromised account signed into the phishing site for the first time, the attacker used the stolen session cookie to authenticate to Outlook online (outlook.office.com)," members of the Microsoft 365 Defender Research Team and the Microsoft Threat Intelligence Center wrote in a blog post. "In multiple cases, the cookies had an MFA claim, which means that even if the organization had an MFA policy, the attacker used the session cookie to gain access on behalf of the compromised account."
In the days following the cookie theft, the threat actors accessed employee email accounts and looked for messages to use in business email compromise scams, which tricked targets into wiring large sums of money to accounts they believed belonged to co-workers or business partners. The attackers used those email threads and the hacked employee's forged identity to convince the other party to make a payment.
To keep the hacked employee from discovering the compromise, the threat actors created inbox rules that automatically moved specific emails to an archive folder and marked them as read. Over the next few days, the threat actor logged in periodically to check for new emails.
"On one occasion, the attacker conducted multiple fraud attempts simultaneously from the same compromised mailbox," the blog authors wrote. "Every time the attacker found a new fraud target, they updated the Inbox rule they created to include these new targets' organization domains."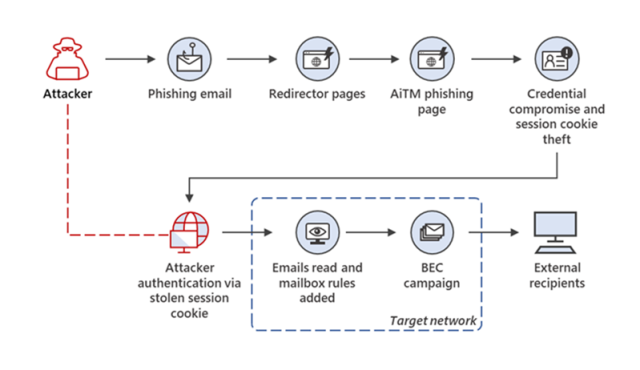 The blog post shows how easy it can be for employees to fall for such scams. The sheer volume of emails and workload often makes it hard to know when a message is authentic. The use of MFA already signals that the user or organization is practicing good security hygiene. One of the few visually suspicious elements in the scam is the domain name used in the proxy site landing page. Still, given the opaqueness of most organization-specific login pages, even the sketchy domain name might not be a dead giveaway.
Nothing in Microsoft's account should be taken to say that deploying MFA isn't one of the most effective measures to prevent account takeovers. That said, not all MFA is equal. One-time authentication codes, even when sent by SMS, are far better than nothing.
Personal & Business Data Security is at the very heart of what we are striving to achieve at BLAKFX. We all know that data theft and cyberattacks are a tangible threat to all of our collective well-being. Business and government simply cannot operate nor thrive if the threat of theft or exposure is omnipresent.
The new era of data security is one that requires new solutions. The era of perimeter defenses is over as it is proving impossible to keep hackers from breaching the perimeter and accessing data. Further E2E encryption based on old models of RSA cryptography will be obsolete when quantum computing becomes mainstream.
Helix22 delivers perfect security assurance due to our genius engineering team that has invented a new model for data security that required an innovative look at the problem. The approach we took was to protect the data itself. Almost all other data security products try to build a perimeter or being fanatic on user credentials. However, once the product is breached or a password is stolen, even if it is 2FA or encrypted, your firms data is in the clear.
You see, the Helix22 cryptography is embedded with the data itself through our inventive and patented process of DNA BindingTM. Therefore, even if credentials are stolen the data cannot be exfiltrated. This means that all data is 100% protected regardless of the type of attack. This holds true for customer and user data as well. No theft of user information is possible.
              Our Motto
      "In Math We Trust"
D2D encryption
We can make this claim as the tech engineers at BLAKFX invented and patented a genuine device2device (D2D) encryption. We manage data security transmission through the truly brilliant and also patented universal Helix22 key service. The Helix22 encryption originates on your network or device, not just when the app is opened. This means, that when data arrives to our key server, it is already encrypted so all it needs to do is issue another key. Signal and Telegram cannot claim this level of security. This key will then only work with the intended device, which generates a matching key required to open the data. In this protocol, we are truly a "zero-knowledge" server so your communications and transmissions remain completely top secret. Even in the event that BLAKFX were subpoenaed, we can honor the request by just handing over the encrypted content…as that is literally all we have. Helix22 also only use keys just one-time and then destroys them. This way the data security is future forward prefect. Therefore, in our unique device-to-device (D2D) world, there is no opportunity at all for any data leak.
This same protocol just described, can be the same with all your 3rd party vendors and suppliers. It does not matter in the least what platform they are running or what device they are using or even the type of data, it is all 100% protected. We do however, strongly advise that all firms involved be utilizing Helix22 due to the nature of the data content. Helix22 can ensure that whatever data they are generating is protected as well.
Let's take it a step further. Even if your organization were a victim of an internal attack or a victim of malicious open source downloads, there is no reason for concern. Any data that has been forwarded, downloaded, copied or saved cannot be exfiltrated. Period.  We have the technology industries foremost data packets which are protected with multi-layered, military grade encryption algorithms that have already proven the ability to withstand penetration testing from MI5 and quantum computing attacks.
One final practical genius of DNA BindingTM is in that it is immediately compatible with whichever system or software you are utilizing. Therefore, any organization can forward information to another and then discuss it and there is immediate privacy.
The Helix22 data security SDK accomplishes the following:
Protects all your firms data at rest, in use and in transit
Renders ransomware threats obsolete
Eliminates human error
Eliminates all malicious or interior attacks
Verifies original content i.e. minimizes the threat of impersonation attacks and deep fakes
Reduces latency and optimizes 5G networks
Installs with 5 lines of code
Runs on any platform, network, device and in any programming language
Provides perfect future/forward secrecy
Delivers "zero-knowledge" encryption
Compatible with all cloud, 3rd party and vendor services
Enables Internet of Things data security by providing protection at the Edge and has ultra low latency
Ensures privacy and security for blockchain and all cryptocurrency transactions
Is quantum ready – so there's no need to upgrade when the time comes
Requires no employee training
Exceeds all gov't and banking security standards
Meets all international compliance regulations
BLAKFX is Based on Success
Our founders, Robert Statica PhD and Kara Coppa, also founded Wickr, which is used by the US military and has never been hacked since its inception in 2012. The Helix22 data security SDK is several generations enhanced since then. Dr. Statica also delivered the encryption for the world's most secure phone, Katim.
Founder – Robert Statica PhD            Founder – Kara Coppa   
Co-Founders of Wickr                    KatimTM Ultra Secure Smartphone
Finally, the Helix22 encryption is quantum computing ready so no need to redo all your data security methodologies in a couple of years when everything else becomes obsolete.
We like to refer to Helix22 as "22nd Century Data Security."
Helix22 – Zero Risk